Parkman Merchant Business Directory
The Farm House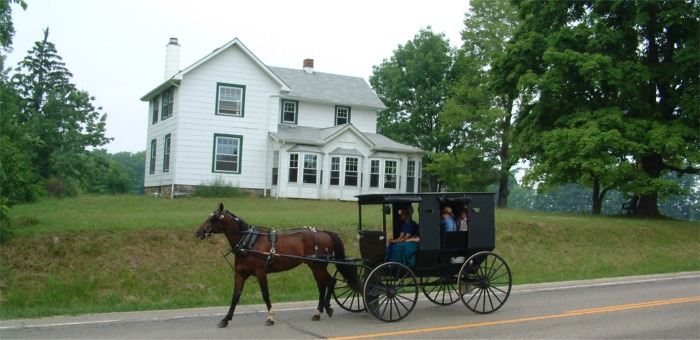 http://www.the-farm-house.com
16650 Nash Rd
Parkman Ohio 44080
The Farm House in Parkman is a vacation rental that sits on 100 acres that include woodlands of maple, pine, and oak. Bring your binoculars to catch sight of the wildlife, beavers, woodchucks, cottontails, deer, wild turkeys and wild geese. There is a 3-acre lake with fishing available: bass, catfish, and blue gill.
The Farm House has 4 bedrooms, a fire place, as well as a separate dining room, living room, and sun porch. It is suitable for couples or families and groups of friends, for any length of stay.
The Farm House has been open for vacation rentals since 1999. Loma Flowers' parents (George and Kaye Brown) bought the farm in 1941, and her family has owned it continuously since then. She lived there in the 1940's and again on vacations from Case Western Reserve in the 1960's. Her husband, Edgar, did extensive renovations 's in 1998 & 1999 to make it cozy for long or short stays. He added the sun porch a couple of years later, and it is ideal for lazy breakfasts, or watching the horses and buggies trot by as you enjoy the porch swing. Loma manages the rentals from San Francisco, with phone, fax and internet.
Many renters are friends or family members meeting "in the middle," for a fun week or two, some coming from as far as Europe and California; or couples and groups seeking a quiet retreat for a weekend or more. We have also been a stopover on cross country trips, and extra housing for wedding guests, etc.

Imagine staying here, relaxed and peaceful, listening to the birds and watching the Amish buggies pass by from the sun porch. You can! Rent this renovated 19th century farmhouse for a weekend or a week. It is ideal for a small group of friends.
Mailing Address: The Farm House, 16650 Nash Road, Middlefield, OH 44062
Phone for RESERVATIONS: (415) 333-8631 (phone)
Fax for RESERVATIONS: (415) 586-5804 (fax)
Phone and Fax when at The Farm House: (440) 548-5191
Contact Loma Flowers at
Loma.Flowers@ucsf.edu or use my website www.lomaflowersmd.com