Parkman Township Zoning
Apply for Permit Form
Click here for the Zoning Apply for Permit Form
Parkman Township Zoning Resolution
(Published in 2/19/2021)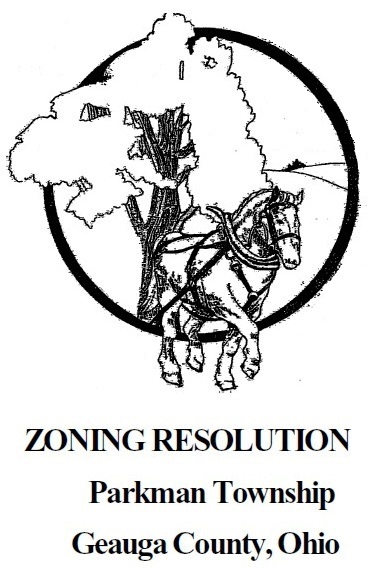 Click here for the most current
Parkman Zoning Resolution
Parkman Township Zoning Fees
(Published in 2019)
Click here for PDF of
Zoning Fees List
Parkman Zoning Meeting Minutes
Due to public request, the certified minutes from each
Parkman Zoning Meeting and Appeals Meeting
will be posted onto this page.
The month's that have a day number associated with it are linked to the corresponding minutes.
Months without any day numbers did not have any meetings that month.

If you have further questions about Zoning Issues,
please use the mailing address below to contact the Zoning Board.
Parkman Zoning
16295 Main Market Rd. (Rt. 422)
West Farmington, Ohio 44491
(440) 548-2904 (Ext #1)
2023 Zoning Board Minutes
2023 Zoning Appeals Board Minutes
2022 Zoning Board Minutes
2022 Zoning Appeals Board Minutes
2021 Zoning Board Minutes
2021 Zoning Appeals Board Minutes
2020 Zoning Board Minutes
2020 Zoning Appeals Board Minutes
2019 Zoning Board Minutes
2019 Zoning Appeals Board Minutes
2018 Zoning Board Minutes
2018 Zoning Appeals Board Minutes
2017 Zoning Board Minutes
2017 Zoning Appeals Board Minutes
2016 Zoning Board Minutes
2016 Zoning Appeals Board Minutes
2015 Zoning Board Minutes
2015 Zoning Appeals Board Minutes
2014 Zoning Board Minutes
2014 Zoning Appeals Board Minutes
2013 Zoning Board Minutes
2013 Zoning Appeals Board Minutes
2012 Zoning Board Minutes
2012 Zoning Appeals Board Minutes
2011 Zoning Board Minutes
2011 Zoning Appeals Minutes
2010 Zoning Board Minutes
2010 Zoning Appeals Minutes
2009 Zoning Board Minutes
2009 Zoning Appeals Minutes
Zoning Board Regulations
Revised Parkman Code - February 24, 2009
2008 Zoning Board Minutes
2008 Zoning Appeals Minutes
2007 Zoning Board Minutes
2007 Zoning Appeals Minutes
2006 Zoning Board Minutes
2006 Zoning Appeals Minutes
2005 Zoning Board Minutes
2005 Zoning Appeals Minutes
2004 Zoning Board Minutes
2004 Zoning Appeals Minutes
2003 Zoning Board Minutes
2003 Zoning Appeals Minutes